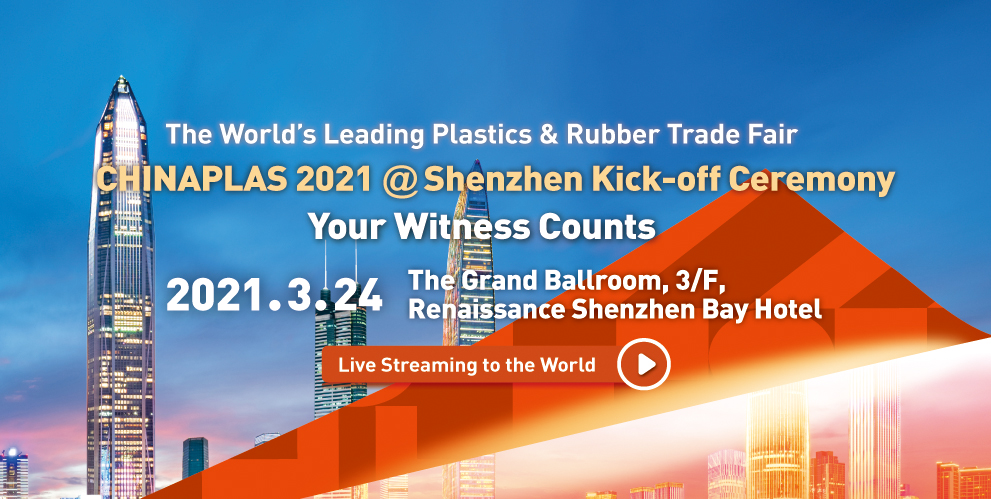 Introduction
The Guangdong-Hong Kong-Macao Greater Bay Area (GBA) is a crucial production base for plastic products in China. CHINAPLAS 2021, the world's premier plastics and rubber trade fair, will be held in Shenzhen, one of the core engines of the GBA, for the first time from April 13-16, 2021 at Shenzhen World Exhibition & Convention Center (Bao'an New Venue). Its debut in Shenzhen is to occupy a total exhibition area of 350,000m2, marking a new milestone of the tradeshow.
CHINAPLAS 2021 will also be the only international plastics and rubber industries exhibition in the world this year, aims to drive high-quality development by innovation and technology, and to explore more business opportunities with companies from both upstream and downstream plastics and rubber industries under the new economic landscape of China.
To this end, we are proudly to hold the "New Era.New Potential.Innovation for Sustainability: CHINAPLAS 2021 @ Shenzhen Kick-off Ceremony cum Gala Dinner"(be referred to as the "Ceremony") in Shenzhen, a highly innovative and vivid city.
Local and overseas renowned professionals and experts in the plastics and rubber industries, together with prominent exhibitors and visitors, will be invited to attend the Ceremony and share their insights on opportunities and trends. It is expected that the event will be well-attended by over 150 guests from various trade associations of plastics and rubber industries, research institutions and enterprises in the GBA.
Live Streaming to the World
Live streaming of the Ceremony will be aired worldwide simultaneously through both Chinese and English channels. Even though you cannot come in person, you will not miss any memorable moment of the Ceremony online. In addition, 100+ local and overseas media, are invited to join us online and offline, sharing the remarkable Ceremony from multiple perspectives on different channels and platforms.
Time
2021.3.24(Wednesday), 13:30-19:30(GMT+8)
Venue
The Grand Ballroom, Renaissance Shenzhen Bay Hotel
(No. 18 Keji South Road, Nanshan District, Shenzhen China)
Itinerary
Tentative Program Rundown
13:30-14:00

Reception

14:00-14:10

Welcome Speech

Mr. Stanley Chu, Chairman, Adsale Exhibition Services Ltd.;

Mr. Marius J. Berlemann, General Manager, Messe Düsseldorf (Shanghai) Co., Ltd.

14:10-14:25

CHINAPLAS 2021 Kick-off Ceremony

14:25-14:40

The Situation of China's Plastics Processing Industry during the 13th Five-Year Plan & Suggestion on the Development of the 14th Five-Year Plan

Mr. Zhanjie Wang, Vice Chairman and Secretary General, China National Light Industry Council - China Plastics Processing Industry Association

14:40-14:55

The Technological Development Trend of China's Plastics Machinery Industry

Ms. Dongping Su, Executive Deputy President and Secretary General, China Plastics Machinery Industry Association

14:55-15:00

Europe's Plastics Machinery Industry - Economic Situation and Sustainability Goals 2020/2021

Mr. Thorsten Kuehmann, Secretary General, Europe's

Association for Plastics and Rubber Machinery Manufacturers (EUROMAP)

15:00-15:15

The Development & Forecast of the Plastics Industry in the Greater Bay Area

Mr. An Fu, President, Guangdong Plastics Industry Association

15:15-15:35

CHINAPLAS 2021 Show Highlights & Concurrent Events

Ms. Ada Leung, General Manager, Adsale Exhibition Services Ltd.

15:35-15:40

Shenzhen World Exhibition & Convention Center (SWECC) – an Ideal Stage for World Class Exhibitions

Mr. Jun Ma, General Manager, Shenzhen Zhaohua Int'l Exhibition Operation Co., Ltd.

15:40-16:25

Synergy of Business Opportunities and New Technology Trends in the Greater Bay Area - Sustainable and innovative development of China's Plastics Industry and Strategic Thinking

Mr. Jianjun Li, Director & CSO, Kingfa Sci. & Tech. Co., Ltd.

Synergy of Business Opportunities and New Technology Trends in the Greater Bay Area - Application-driven, Smarter Future

Mr. Tao Zhang, Director and Deputy General Manager,

Guangdong Yizumi Precision Machinery Co., Ltd

Synergy of Business Opportunities and New Technology Trends in the Greater Bay Area - WIR SIND DA

Ms. Christine Li, Marketing Manager, Arburg (Shanghai) Co., Ltd.

16:25-16:30

Rubber and Plastics TechnologyLeads Intelligent Era

Mr. Jinzhong Shi, R&D Director, Lenovo Research

16:30-16:35

A Discussion on Sustainable Development of Plastics Packaging at CHINAPLAS 2021

Mr. Shou Chen, Chairman of Shenzhen Beauty Star Co., Ltd.,

16:35-16:40

Going Forward Hand in Hand, Together We Create & Share

Mr. Wenguang Wang, Executive Vice President and Secretary General, Shenzhen Polymer Industry Association

16:40-17:30

Mingling & Photo Session

17:30-19:30

Gala Dinner