Medical and Healthcare . Intelligent Manufacturing
Healthcare covers medicine, medical treatment, healthcare products, rehabilitation and elderly care, it is a comprehensive and diversified industry. The healthcare industry is becoming a huge market with value over RMB 10 trillions.
The robust development of the healthcare sector creates promising outlook for the medical device industry. Following the trend of high precision, biocompatibility, and long lastingness of the medical devices, materials studies and new materials application are getting more important in this field. New materials such as aerospace materials and bionics materials are providing more options in cost control and functional enhancement for medical devices.
CHINAPLAS joins hands with innovative plastic materials and intelligent equipment providers around the world to provide cutting-edge solutions which enable better design and function of medical and healthcare devices.
Medical Related Products
[#slider]
Medical related videos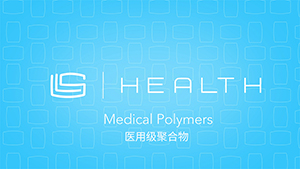 Lubrizol Medical Polymers
Wote PPSU's Contribution in Medical Device Industry
Industry News