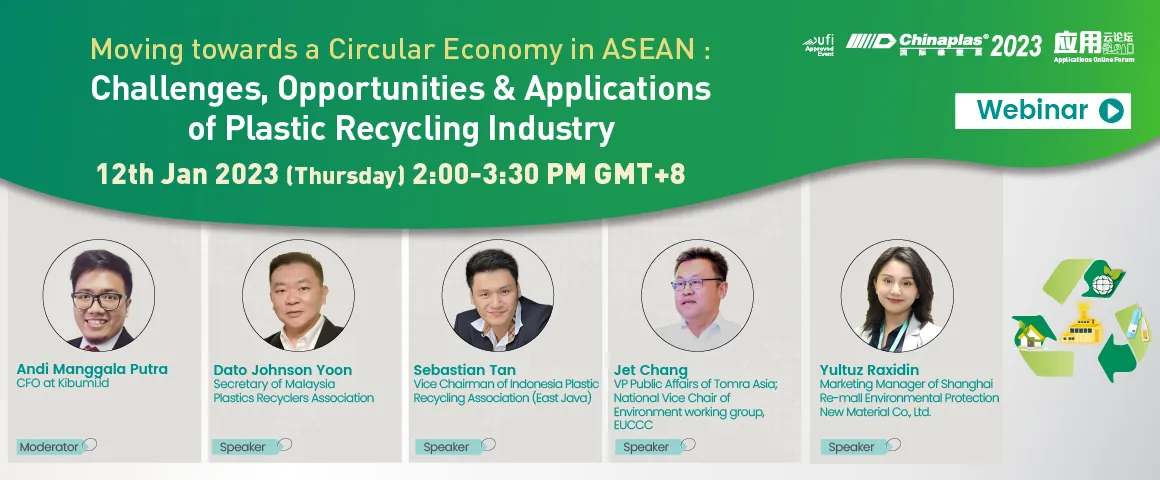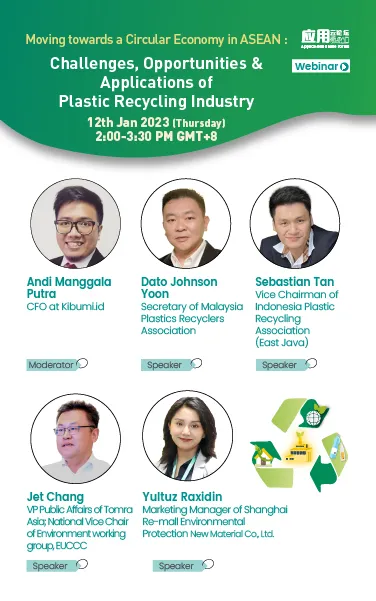 In Southeast Asia, over 75 % of the material value of recyclable plastics is lost (US$6 billion) a year according to a study by the World Bank Group. Plastics economy has long been a cycle of take, make and waste in general. With shared rivers and coastlines, the threat of marine debris for the entire region brought by plastic waste is exacerbate. No country can tackle this challenge alone.

ASEAN countries are working hard together to scale up and accelerate the region's transition to a circular economy that prioritizes plastics-related policies and investments in key sectors and locations. Its transformative potential encompasses new alternative materials, product designs, innovative technologies and resource management.

This webinar will focus on the development trends, explore opportunities and challenges in the context of plastics recycling industry, as well as the application mechanisms. Representatives from various sectors will share best practices in shifting towards greater plastics circularity.
Online Forum Theme:
Moving towards a Circular Economy in ASEAN: Challenges, Opportunities & Applications of Plastic Recycling Industry
Programme:
Section 1 - Individual Presentation
Section 2 - Panel Discussion (Moderated by Mr Andi Manggala Putra)
Section 3 - Q&A session
12th Jan 2023
2:00 PM - 3:30 PM GMT+8
Topics & Speakers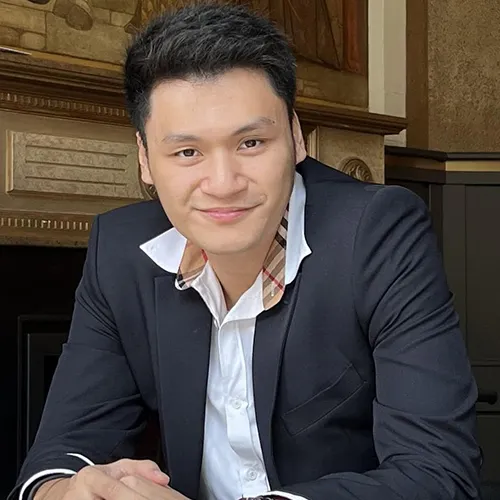 Mr. Sebastian Manoppo Tan
Vice chairman of Indonesia Plastic Recycling Association for East Java Region
CEO of SALS Indonesia and PT Cahaya Makmur Sejahtera Polimer
Sebastian is the vice chairman of Indonesia Plastic Recycling Association for East Java Region. He is currently the CEO of SALS Indonesia and PT Cahaya Makmur Sejahtera Polimer. At first, he got into recycling world as he is very concerned about the state of the world's climate and environment. He firmly believes that collaborations are the key to solve these issues. To date, he has worked together with multiple entities from both private and public sectors to raise the collection rate and awareness of plastic waste in Indonesia. He is also one of the directors of Circular Consortium.
---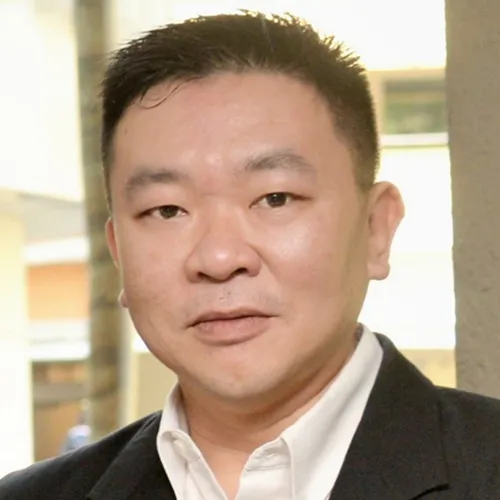 Dato Johnson Yoon
Secretary of Malaysia Plastics Recyclers Association
Central Committee member of Malaysian Plastics Manufacturers Association
Dato Johnson Yoon is the secretary for the Malaysia Plastics Recyclers Association (MPRA) since 2018. He is appointed as an alternate member of the technical committee on the circular economy by the Department of Standards Malaysia (under the Ministry of International Trade and Industry). He contributes towards the development of national standardization activities more productively, especially in the field of the circular economy.
---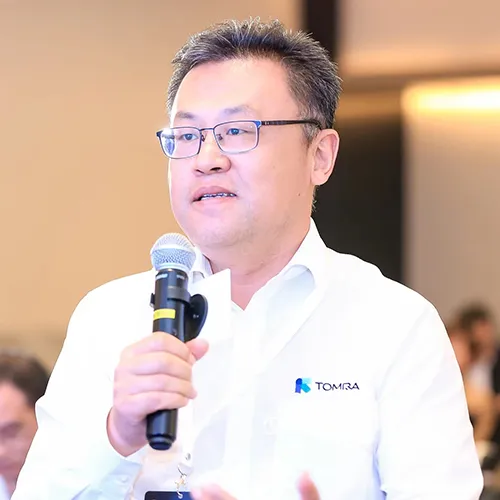 Mr. Jet Chang
TOMRA SORTING TECHNOLOGY (XIAMEN) CO., LTD.
VP Public Affairs of Tomra Asia;
National Vice Chair of Environment working group, EUCCC
Jet Chang joined TOMRA in Oct 2017 and has been responsible for circular economy policy advocacy and business development in China. Before that, he worked 8 years for several international and domestic companies in the environment industry such as Haldor Topsoe, Poten Environment and Derun Environment. From 2004-2011, he served as senior commercial officer at the Embassy of Denmark in China. Since 2019, he has also been the national chair/vice chair of the environment working group of the EUCCC. Jet holds two master's degrees from the Northwestern Polytechnic University and Nanyang Technological University respectively.
---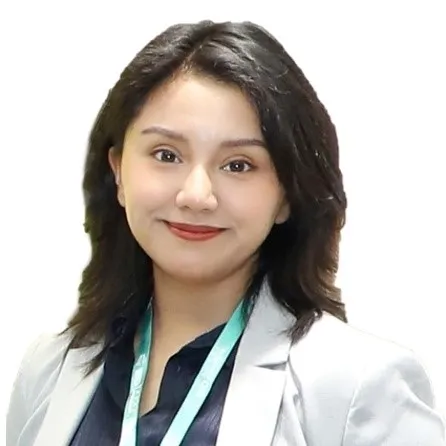 Miss Yultuz Raxidin
Shanghai Re-mall Environmental Protection New Material Co., Ltd.
Marketing Manager
Yultuz Raxidin graduated from Shanghai Jiao Tong University in 2018 with bachelor's degree in Polymer. She joined the commercial management training at PPG and occupied business development specialist position for over 2 years. Then, Yultuz joined Re-mall since 2020 and has been responsible on recycled plastic market development. As she's pursuing her career, she was accepted as a candidate for Cornell-Peking MBA MMH program class 2025.
---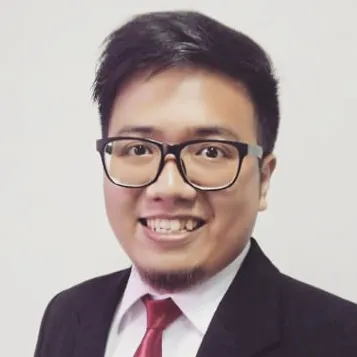 Mr. Andi Manggala Putra
CFO at Kibumi.id
Currently working as a lecturer in Universitas Pembangunan Nasional Veteran Jakarta and as a CFO at Kibumi.id. Kibumi.id aims to deliver digital waste circular supply chain solutions throughout Indonesia, raise our circular economy and bring equality & sustainability to our people and planet.

His company focuses on maximizing the potentials of existing waste value chain players, specifically towards traditional scrap dealers who have been contributing most of the raw materials supply of recyclables for recycle industries but still left disadvantaged.