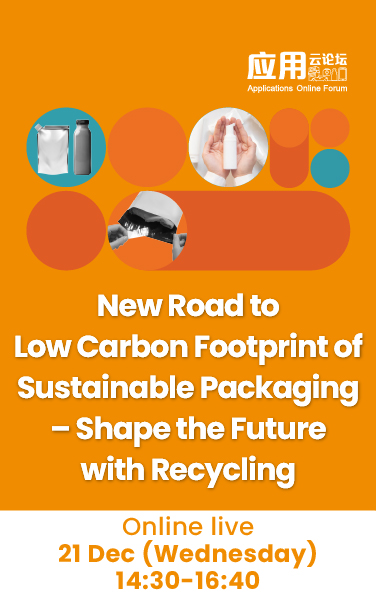 Plastics, which are colorful, lightweight, and collision-resistant, are widely used in the packaging of food and beverages, ready-made meals, daily chemicals and e-commerce logistics. In the context of the "Dual Carbon Goals", apart from favorable appearance and practicability, plastic packaging in line with the low-carbon and sustainable development are preferred by the consumers.
With the topics of low carbon, easy recycling, etc., the forum will facilitate brand owners, materials and equipment suppliers to explore future development of the industry, supporting packaging enterprises in all directions, from technological innovation to product research and development, from smart manufacturing to cost reduction and efficiency enhancement, on the New Road to Low Carbon Footprint of Sustainable Packaging – Shape the Future with Recycling.
14:30-14:40
Introduction & Group photo
14:40-15:05
Plastic Packaging Dual Easy Design and Recycling System Construction
Victor Wang, Secretary General, China Plastic Recycling Association of CRRA
15:05-15:30
Drive Circular Economy with Sustainable Packaging
Xu Junwei, Technical Services and Development Center Manager, SK Geo Centric
15:30-15:55
High Value Recycling of Plastic Waste
Chen Daoming, Deputy General Manager, Guangxi Wuzhou Guolong Recyclable Resources Development Co., Ltd.
15:55-16:05
CPS+ eMarketplace for Packaging Industry
Guang Tianzi, Project Executive-Marketing Communications, Adsale Exhibition Services Ltd.
16:05-16:30
Packaging Innovation Towards Sustainability
Deon Wang, Technology Academician, Packaging Development, P&G Technology (Beijing) Co., Ltd.
16:30-16:40
Survey, Lucky Draw, End of Live Broadcast
* The above agenda is subject to change, please refer to the announcement of the day.