Leaping Towards High-quality Development of Plastics & Rubber Industries with Technological Innovations
CHINAPLAS Press Conference Grandly Held
Publish Date: 2023/03/29
In the past three years, the COVID-19 epidemic has brought various impact and pressure on the global economy and industries, while plastics and rubber industries are no exception. Under the fasting changing national policies, market environment and demand, plastics and rubber industries keep moving on against difficulties by adjusting the direction and pace of development from time to time. They are well-prepared for new opportunities arising from the strong recovery of China's economy brought by high-quality development and further opening up. In this favorable context, CHINAPLAS 2023 is to be held at the Shenzhen World Exhibition & Convention Center, PR China (SWECC), on April 17-20, 2023. It will be the first world-class plastics and rubber industry event held in China after the relaxation of pandemic controls, providing a huge stage for the entire industry to exchange high-tech technologies and explore business cooperation.

The show will be commenced in less than one month. Adsale Exhibition Services Ltd., the organizer of the exhibition, grandly held an online and offline international press conference in Shenzhen today (Mar 29). "Over the past year, the uncertain and unpredictable environment has increased the difficulty of organizing the exhibition. However, this year the exhibition can still set a new record in terms of scale, with a total area of 380,000 sqm, an increase of 8.6% from the 2021 exhibition. It is the first time for us to use all 18 exhibition halls of SWECC. It is encouraging and reflects the high confidence and expectations of the industry. Together with more than 3,900 prominent renowned exhibitors from all over the world, the show shall follow the themes of high-quality development and vigorous development of advanced manufacturing, join hands together with the industry towards high-end manufacturing, smart manufacturing, and green manufacturing," said Ms. Ada LEUNG, General Manager, Adsale Exhibition Services Ltd. at the conference.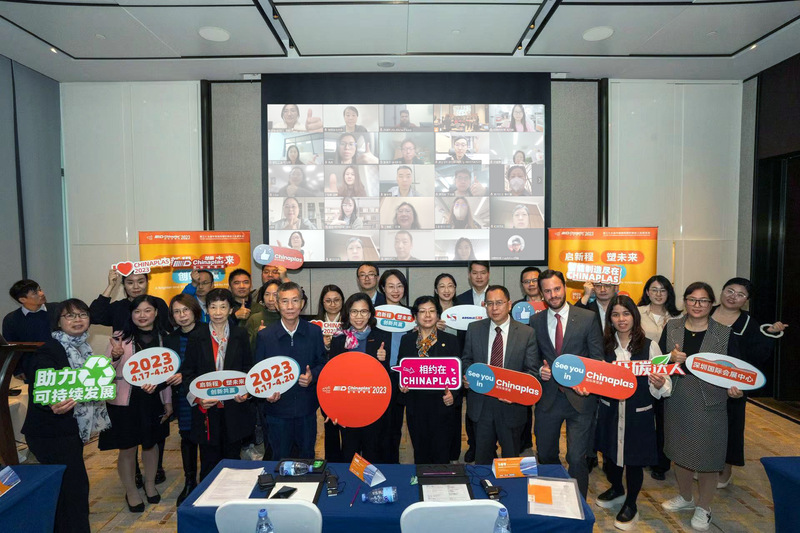 More than 100 local and overseas media participated in the press conference online and offline



Seize the opportunity and strive for advanced manufacturing
Developing advanced manufacturing is an important element of high-quality development. Focusing on the high-end, smart, and green development of the manufacturing industry, CHINAPLAS 2023 shall present high-quality plastics and rubber innovative solutions, as well as high-quality concurrent events.

High-quality exhibitors + High-level activities for High-end Plastics & Rubber Industries: Over 3,900 quality exhibitors from China and abroad, including industry leaders such as BASF, DuPont, LG Chem, Evonik, Mitsubishi Chemical, Polyplastics, LyondellBasell, Borouge, Clariant, Sinopec, Wanhua Chemical, CNPC, Sinochem Plastics, Kingfa, Wote, Arburg, Brückner, Engel, Chen Hsong, Haitian, Yizumi, Jwell, Borch, Shaanxi Beiren, Liansu, Tederic, etc., are showcasing a full array of innovative solutions, including over 200 world / Asian debut technologies. It is expected that more than 1,400 materials suppliers and 3,000 sets of machinery exhibits will be on the same stage, supporting smart, efficient, cost-effective, and low-carbon manufacturing.

Promoting "Professionalization, Refinement, Specialization and Innovation (PRSI)" enterprises is a strong driver for high-quality economic development, and an indispensable impetus for breaking through the bottleneck of technology. Among this year's exhibitors, over 400 enterprises are honored as "PRSI", and more than 100 national-level enterprises are awarded as a "Little Giant". The first "PRSI Shining Stars in Plastics & Rubber Industries - Enterprises Plaque Awarding Ceremony" will be held on the first day of the show (Apr 17). "PRSI" companies shall be awarded a special plaque under the spotlight on this international stage.

The birth of groundbreaking technologies often comes from the pursuit of continuous improvement in research and development, as well as the courage to innovate. SciXplore Forum, co-organized with Society of Advanced Molding Technology, shall be held concurrently. Under the theme of "Connecting Polymer Science with Applications", well known scientists and academicians from Chinese Academy of Sciences, Chinese Academy of Engineering, The Academy of Science of the Royal Society of Canada, Canadian Academy of Engineering, Russia Academy of Engineering, as well as executives of brands in the industry, will share their scientific achievements, cutting-edge perspectives, and first-hand industrial experiences in polymer industry. They will jointly explore the upgrade and transformation of the plastics and rubber industries, and inspire new ideas for the future. In addition, over 30 innovative technologies will be presented at Tech Talk, while the sharing and works of design masters shall be presented at Design x Innovation to inspire participants' creative ideas.

Smart and green are the key words in plastics and rubber industries: Many manufacturing companies are demanding high production efficiency, cost reduction, low pollution, and low energy consumption. The exhibition will bring together almost 330 solution providers in Injection Molding and Smart Manufacturing Solutions Zone to showcase advanced smart manufacturing solutions such as automation and robotics technology, for improving production efficiency and optimize production processes, and facilitating the digital transformation of the manufacturing industry. In the 3D Tech Zone, visitors can experience the advantages of advanced 3D printing materials, technologies, and hardware in accelerating product development and production, and cost reduction. In addition, visitors can find the latest all-round sustainable solutions for environmentally friendly materials, processing technologies, and products in various theme zones, including Recycled Plastics Zone, Bioplastics Zone, and Recycling Tech Zone, and the newly established Innovative Products Zone. During the 4th edition of CHINAPLAS X CPRJ Plastics Recycling & Circular Economy Conference and Showcase, held one day before CHINAPLAS 2023, senior government officials and representatives from industry organizations, brands, machinery and material suppliers worldwide are invited to share their views on these relevant policies and industry trends.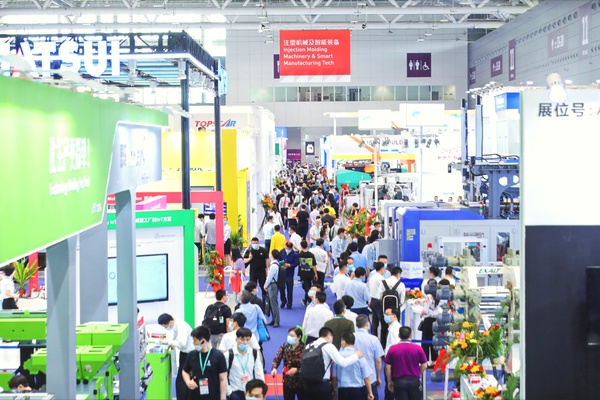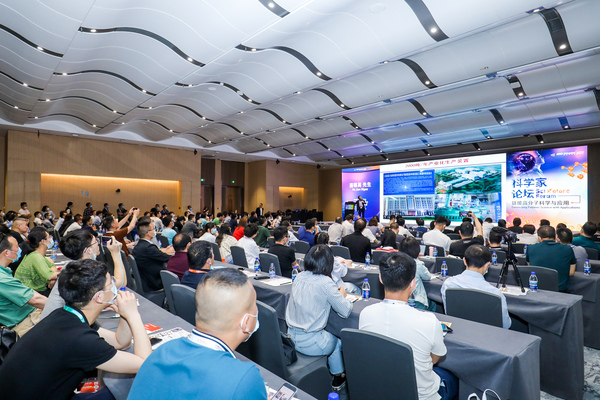 Taken at CHINAPLAS 2021



Smooth foreign trade tides the world
Valuing the comprehensive cost advantages of Southeast Asia, many branded enterprises have invested in setting up factories in the region to obtain the Certificate of Origin, avoid tariff barriers, and establish supply chain network. The plastics and rubber machinery and materials from China, with their internationally competitive technology, outstanding durability and stability, and high cost-effectiveness, have caught eyeballs in the Southeast Asian market. It has created favorable grounds for inviting overseas visitors to participate in CHINAPLAS 2023. After three years, overseas buyers, especially those from Southeast Asia, have accumulated great demand and enthusiasm for finding suppliers and partners in China. Since early this year, pre-registration of overseas visitors has been soaring, and the response in organizing delegations is encouraging as well. Currently, more than 30 overseas organizations from different countries and regions, such as Indonesia, Thailand, India, Vietnam, Malaysia, Myanmar, the Philippines, South Korea, Pakistan, Russia, Brazil, etc., have expressed their intention to organize delegations to attend the exhibition. Among them, there are plastics associations and end-user associations namely, Indonesian Packaging Federation, Thai Plastic Industries Association, Thai Auto-Parts Manufacturers Association (TAPMA), Indian Plastics Federation, Vietnam Plastics Association (VPA), Vietnam Electronic Industries Association (VEIA), Malaysia Bottled Water Manufacturers Association, Federation of Malaysian Manufacturers (FMM), Malaysia Plastics Recyclers Association, Malaysian Plastics Manufacturers Association, Philippine Plastics Industry Association (PPIA), Pakistan Plastic Manufacturers Association, etc. The organizer expects that the no. of overseas visitors in CHINAPLAS 2023 will resume to more than half of that before the pandemic. Most of them are from Asia, southeast Asia in particular.

Overseas visitors with orders and sourcing needs are planning to travel to Shenzhen in this spring, a golden season for sourcing and business talks. Do Thi Thuy HUONG, Executive Board Director, Vietnam Electronics Industries Association stated that they shall send delegations comprise of the main manufacturers of electronic industries in Vietnam to participate into CHINAPLAS, for the looking to partnerships and opportunities of business and investment from the both countries. Regarding the participation in CHINAPLAS, Sompol TANADUMRONGSAK, President, Thai Auto-Parts Manufacturers Association, hoped that they will have created some business opportunities between Thailand and China after the last 3 or 4 years. Aaron Timothy LAO, President, Philippines Plastics Industry Association, mentioned that more than 60 PPIA members has confirmed to attend the exhibition, and they very much anticipate to the new trends and technologies showcased by exhibitors from China and around the world at CHINAPLAS.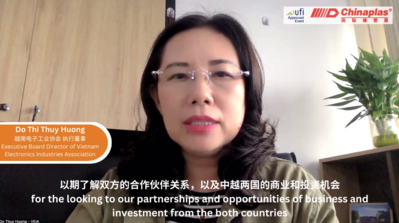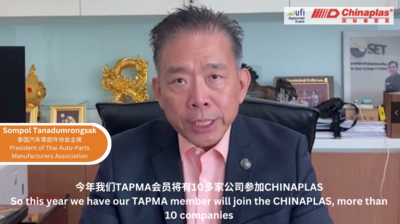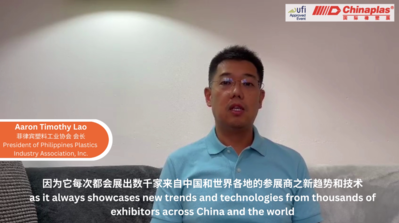 Overseas plastics associations and end-user associations look very much forward to the upcoming exhibition



"Bringing in" and "going out" - On one hand, we see the improvement of foreign trade. On the other hand, the exchange of personnel between China and foreign countries is gradually resuming to normal. Starting from Feb 6, cross border travel between the mainland, Hong Kong and Macau has fully resumed. Relevant authorities stationed abroad have already resume examining and issuing various types of Chinese visas, including travel visa since March 15. At the same time, the visa-free entry into Guangdong province is also resumed for foreigners in groups from Hong Kong and Macau. CHINAPLAS 2023 is ready to receive visitors from all over the world. The exhibition continues to see the support from global exhibitors, including nine country / region pavilions from Austria, France, Germany, Italy, the United Kingdom, Japan, Taiwan, etc. Overseas exhibitors account for about 25% of the total number of exhibitors.

Partnering with plastics & rubber industries for "A Brighter and Shared Future, Powered by Innovation"
At the conference, the leaders of the exhibition organizers and co-organizers shared their insights on the current situation of plastics industry from different perspectives, and made predictions and suggestions. In 2022, the total production of plastic products in China was 77.716 million tons, a year-on-year decrease of 4.3%; the revenue and profit of China's plastics machinery industry decreased by 7% and 11% respectively compared to the previous year. The profit margin remained at 10%, which was higher than the overall machinery industry's profit margin of 6% during the same period. Since the start of 2023, China's economy has achieved a stable and upward trend, and all sectors have started to strive for economic development. As a pillar of foundation industry in manufacturing, the plastics industry is about to embrace a new wave of development opportunities.

Mr. Zhanjie WANG, President, China Plastics Processing Industry Association shared that the government has intensively introduced various policies to encourage and support the industry, which is beneficial to its development. He recommended the industry to adhere to functional, lightweight, precise, ecological and intelligent; to strengthen the construction of standardization system; and to promote green, sustainable, double-carbon work, etc. Ms. Dongping SU, Executive Deputy President, China Plastics Machinery Industry Association saw the broad prospects in new energy vehicle industry and health industry contains opportunities, as well as the good opportunity for China's plastic machinery industry to "go global". She added that key investments and major engineering projects have been successively launched, which help create substantial work opportunities and provide strong support for the industry's stable growth in the market side. Mr. An FU, Chairman, Guangdong Plastics Industry Association pointed out that the high-quality development of Guangdong's plastics processing industry is reflected by the facts that the total profit has increased significantly, with a growth rate higher than that of the production output and sales revenue. Automobile production in Guangdong increased by 22% in 2022, the highest growth in recent years. The demand in high-performance plastic application industries in Guangdong provides substantial support for the high-quality development of the plastics industry.

This year, the "Government Work Report" proposes a target for the expected growth of China's gross domestic product (GDP) of around 5% in 2023, focusing on expanding domestic demand, accelerating the construction of a modern industrial system, strengthening the support of scientific and technological innovation for industrial development, promoting energy conservation, carbon reduction, and pollution reduction in key areas, and fast-tracking the renovation of old communities and dilapidated houses. In the opinion of Ms. Ada LEUNG, General Manager, Adsale Exhibition Services Ltd., all these factors will drive the demand and development of the plastics industry in both quality and quantity, giving confidence for the recovery of the entire upstream and downstream of the plastics industry.

Mr. Marius BERLEMANN, Managing Director, Messe Düsseldorf China Ltd. also shared an exciting news at the conference. He announced that Dr Stephan KELLER, Lord Mayor of the City of Düsseldorf, will, in his first travel to China as the mayor of Düsseldorf visit CHINAPLAS 2023 which clearly demonstrates how valuable and important this exhibition and in general the ties to and with China are for them. Since Messe Düsseldorf China Ltd formed a strategic partnership with Adsale in 2005, it has become one of the co-organizers of CHINAPLAS. Messe Düsseldorf is a public company and to a large extent owned by the City of Düsseldorf. The lord mayor of Düsseldorf is also the Chairman of the Supervisory Board of Messe Düsseldorf.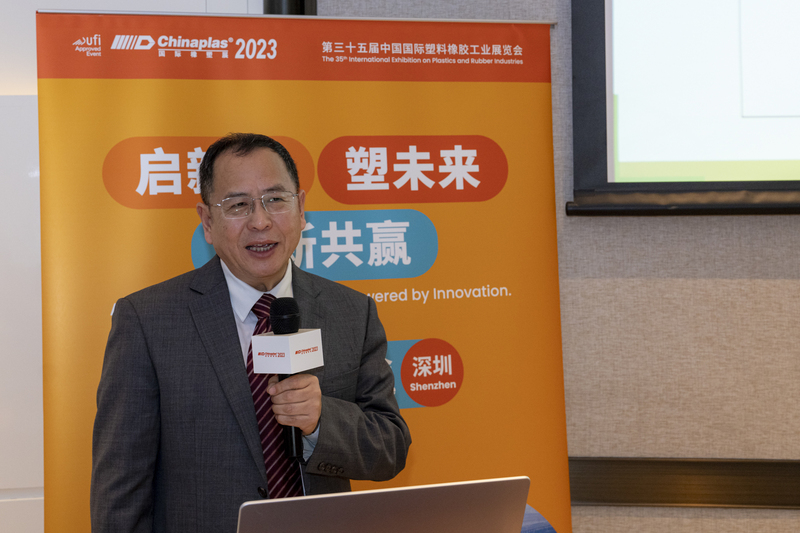 Mr. Zhanjie WANG, President, China Plastics Processing Industry Association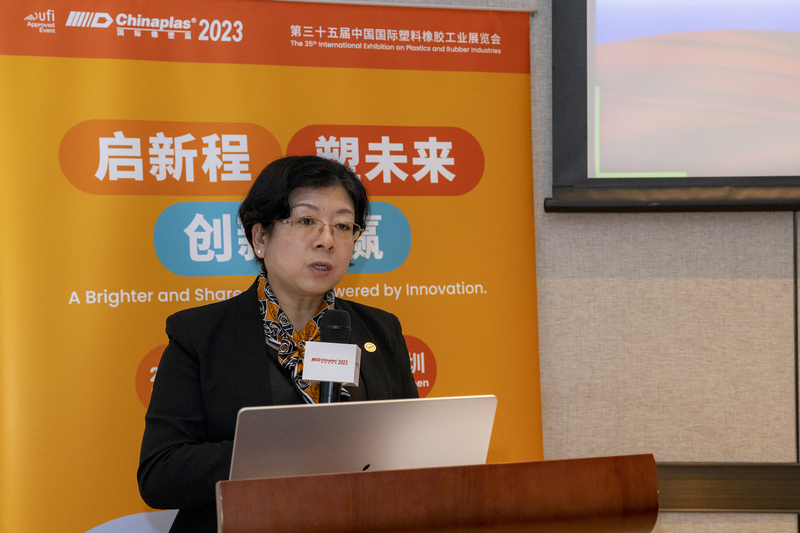 Ms. Dongping SU, Executive Deputy President, China Plastics Machinery Industry Association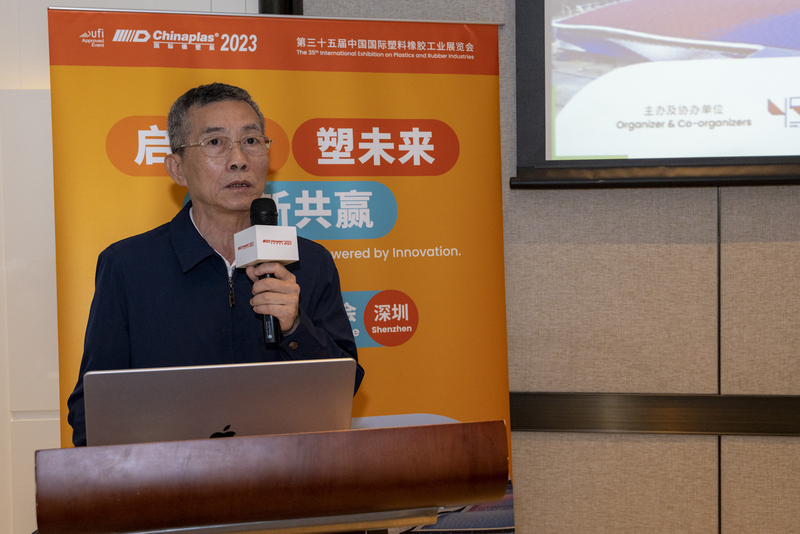 Mr. An FU, Chairman, Guangdong Plastics Industry Association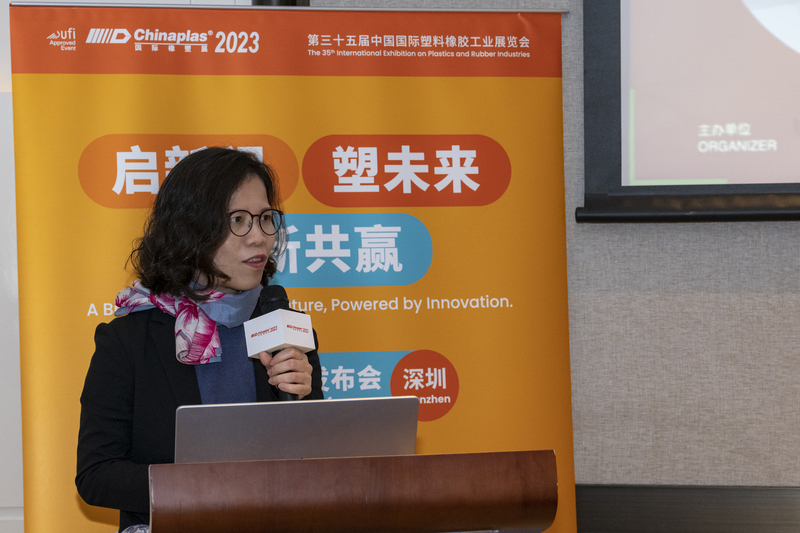 Ms. Ada LEUNG, General Manager, Adsale Exhibition Services Ltd.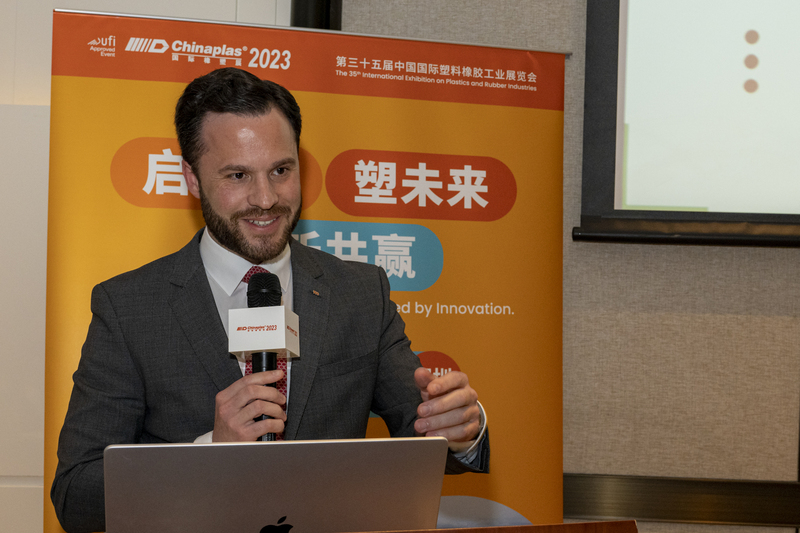 Mr. Marius BERLEMANN, Managing Director, Messe Düsseldorf China Ltd.



When spring returns, China is filled with vitality. The exhibition industry has an important role play in promoting steady economic development. Many exhibitions have been intensively staged with crowds of people and busy logistics since early this year. Exhibitors, visitors, associations, media and other industry professionals have shown their high expectations for CHINAPLAS 2023, which will be held in mid-April, a good timing at the start of new financial year to reactivate high-quality face-to-face communications with Chinese suppliers and cooperation partners. As the leading plastics and rubber industry exhibition in Asia, CHINAPLAS 2023 will spare no efforts to welcome exhibitors and visitors from all over the world.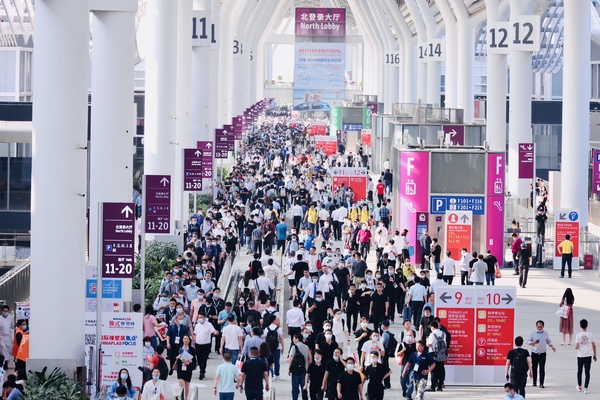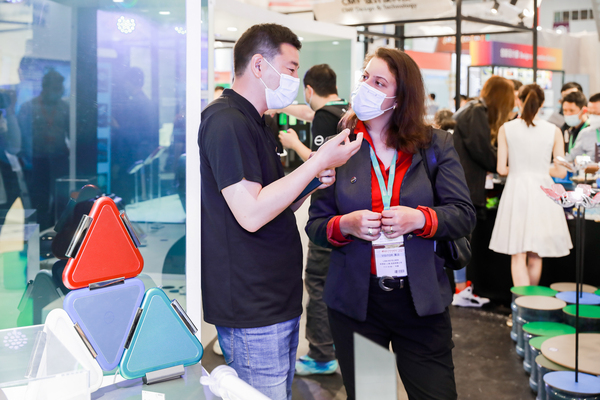 Taken at CHINAPLAS 2021



The integration of online and offline has become a new model and norm in the exhibition industry. In addition to physical exhibitions, the organizer has launched CPS+ eMarketplace, the global plastics & rubber solutions e-sourcing platform powered by CHINAPLAS, to bridge upstream and downstream enterprises in plastics and rubber industries to communicate efficiently online and get prepared for offline meetings. Downstream buyers can easily find plastics and rubber technologies suppliers from around the world by simply clicking their mouse, and to solve their procurement and production problems anytime, anywhere.


Click HERE to pre-register CHINAPLAS 2023 now! For more information or enquires about CHINAPLAS 2023, please visit www.ChinaplasOnline.com or contact Chinaplas.pr@adsale.com.hk



**END**


• Please click on the photo to download the high-resolution image.
• Grateful if we are provided a copy for reference if it is published.
• This press release is issued by Adsale Exhibition Services Ltd.

For media enquiries, please contact:
Hong Kong: Ms. Adele Fung / Ms. Cynthia Lau
Tel: (852) 2516 3316 / 2516 3583
Email:Chinaplas.pr@adsale.com.hk
Official Website: www.ChinaplasOnline.com

CHINAPLAS WeChat: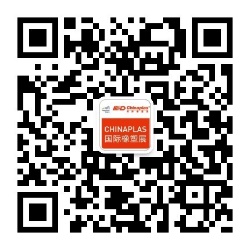 About CHINAPLAS 2023
CHINAPLAS 2023 is organized by Adsale Exhibition Services Ltd., Beijing Yazhan Exhibition Services Ltd., Adsale Exhibition Services (Shanghai) Ltd., Adsale Exhibition Services (Shenzhen) Ltd. and co-organized by China National Light Industry Council - China Plastics Processing Industry Association, China Plastics Machinery Industry Association, Guangdong Plastics Industry Association, Messe Düsseldorf China Ltd., Shenzhen Polymer Industry Association and the Plastic Trade Association of Shanghai. The event is also supported by various plastics and rubber associations in China and abroad.

First introduced in 1983, CHINAPLAS has been approved by UFI (The Global Association of the Exhibition Industry) since 2006. CHINAPLAS is exclusively sponsored by the Europe's Association for Plastics and Rubber Machinery Manufacturers (EUROMAP) in China for the 32nd time. CHINAPLAS is currently Asia's leading plastics and rubber trade fair.