Taking Plastics & Rubber Solutions to Next Level
CHINAPLAS 2023 Concurrent Events Preview (Part II)
Publish Date: 2023/04/04
It is inevitable for plastics and rubber enterprises to embrace the era of change and evolve together nowadays. How to build an outstanding brand image with creative product design? How to cope with the latest challenges and trends in plastics and rubber industries? How to enhance the competitiveness of the enterprises and products? CHINAPLAS 2023, the 35th International Exhibition on Plastics and Rubber Industries to be held in Shenzhen during April 17-20, 2023, will bring over 3,900 international exhibitors under one roof along with a variety of concurrent activities for visitors to explore the advancement and breakthrough of plastics and rubber industries.

Design x Innovation Gallery & Design Forum: Decoding the Creativity DNA of Product Design
The powerful resources of CHINAPLAS in the field of innovative plastics technology provide strong support for emerging product design ideas. The concurrent event of CHINAPLAS 2023 - "Design x Innovation", will return to Shenzhen again. Under the theme of Product DNA: Low Carbon, Intelligent, Health-pursuit, Design x Innovation will launch "Design x Innovation Gallery" & "Design Forum" to inspire product designers and brands to create a product that is eco-friendly, smart, wholesome, stylish with unique functions and captivates the hearts of consumers.

Throughout the show period, Design x Innovation Gallery will display end products made of new materials or made by advanced technologies with good design, as well as innovative design works from Asian designers.
At Design Forum, taking place on Day 2 & 3 of the show (Apr 18 & 19), global designers, leading plastic technology suppliers and experts, including ATSUHIKO YONEDA DESIGN from Japan, Nova Design from Taiwan, Covestro, SABIC, Avient, Materi'act and so on, will be invited to discuss how plastic technologies enhance product innovation, share valuable experience and latest trends in product design.

With the great support from Guangdong Industrial Design Association, Japan Industrial Design Association, Hong Kong Design Trade Association, Low Carbon Design Society of Hong Kong and Taiwan Design Research Institute, the coming edition is expected to receive overwhelming feedback as previous editions. It will be an incomparable platform for business engagement and exchange between product designers from China and overseas, product developers from end user industries and brand owners, along with suppliers of plastics and rubber technologies.

Please click HERE to learn more.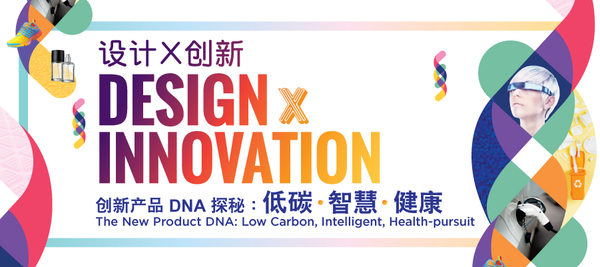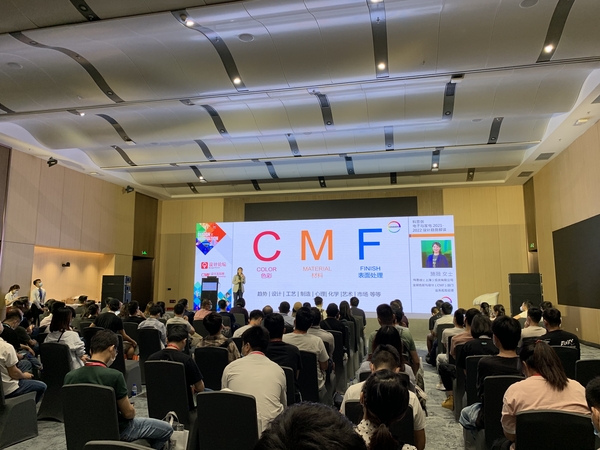 Professionalization, Refinement, Specialization and Innovation (PRSI): Recognizing the Shining Stars in Plastics & Rubber Industries
Facilitating small and medium-sized enterprises' (SME) innovations and development and supporting the initiatives of the Government of the People's Republic of China in strengthening the cultivation of SME towards "PRSI", the first "PRSI – Shining Stars in Plastics & Rubber Industries" will be held on the first day of the show (Apr 17). This event will not only act as a platform for PRSI enterprises to explore business opportunities, but also an award ceremony to the "PRSI" companies to receive the exclusive special "PRSI" plaque for their booths to gain further exposure at the show.

CHINAPLAS 2023 is expected to gather more than 3,900 exhibitors, with exhibits covering machinery, chemicals and raw materials, semi-finished and finished products. Among them, over 400 enterprises are honored as "PRSI", and more than 100 national-level enterprises are awarded as a "Little Giant".

Many "PRSI" enterprises in plastics and rubber industries have a strong willingness to expand business and develop more cooperation opportunities among companies. However, they often lack channels and platforms to share their technological advantages and reach reliable and high-quality buyers. At the event, more than 40 well-known experts from the sectors of automobiles, medical and healthcare, packaging, electronics etc., will connect face-to-face with "PRSI" enterprises and help them expand business opportunities.

Please click HERE to check out the event.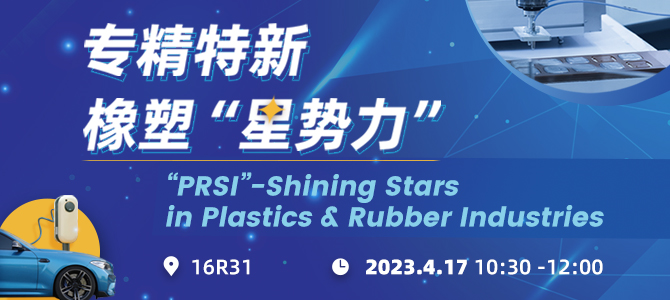 HKMDC Advanced Molding & Innovative Technology Symposium: Compiling Latest Molding Technologies
Co-organized with Hong Kong Mould & Die Council, "Empowering Product Quality with Advanced Molding & Innovative Technology" Symposium will have its first appearance on the third day of CHINAPLAS 2023. Molding is one of fundamental and essential manufacturing processes. With the development of the plastics and rubber industries, the increasing of customers' demands on high-end and high-precision products leads to the expectations of newer and more sophisticated molding technologies. Leading enterprises and industrial experts will share the latest sustainable molding technologies and the future trends for industry 4.0 with audience.

Please click HERE to learn more.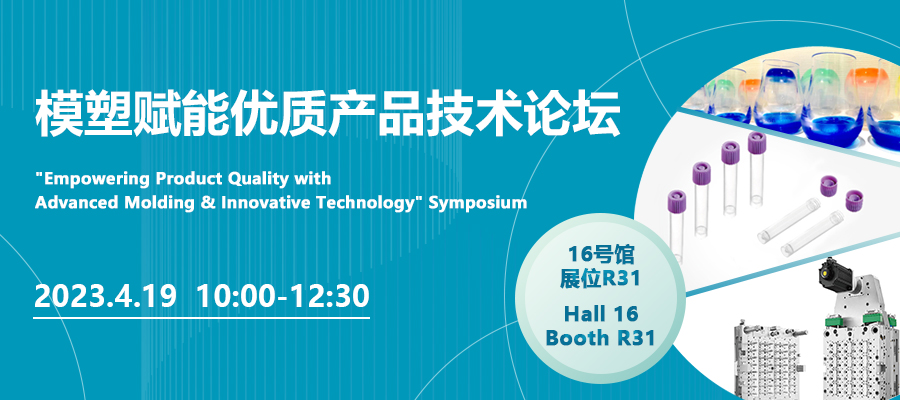 SciXplore Forum: Inspired by Renowned Scientists and Academicians
Another highlighted event on Day 2 is the SciXplore Forum, co-organized with Society of Advanced Molding Technology. Under the theme of "Connecting Polymer Science with Applications", well known scientists and academicians will share their views and latest reports on future development trend and scientific breakthrough achievement of polymer industry through "Keynote Speeches", "Panel Discussion", "Meet the Stars", and the new sessions of "Walk with Scientists". The intelligences will show up in the exhibition hall and interacting with exhibitors to explore innovative ideas, and "Scientists' Night", invited leaders from key companies enjoying the feast with scientists.

Please click HERE to view more event details.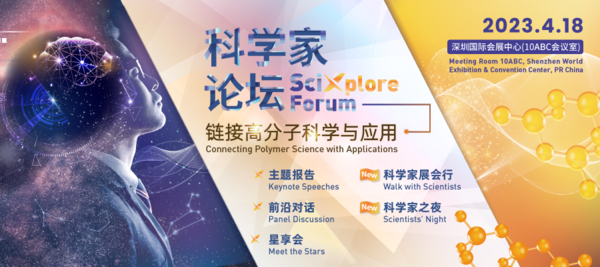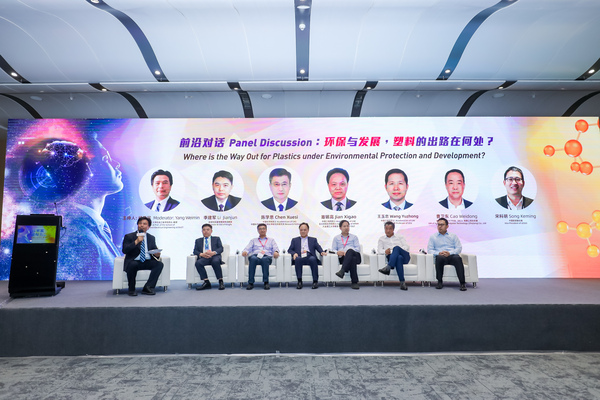 Market Insights Hub & Development Day for Campus Elites: Encouraging Your Next Venture
Last but not least, Market Insights Hub, to be held on Day 4 of CHINAPLAS 2023 (Apr 20), shall organize 6 professional forums which will gather industry leaders and experts from renowned companies such as Deloitte China, TCL, STC (Dongguan) etc.. The forums will provide insights and business inspiration on the topics including practical testing & certification tips for food contact material and medical device, RCEP business opportunities, new media marketing strategies, cost reduction in factory operation and latest market trends of plastic raw materials.

Concurrently, on the Development Day for Campus Elites, professors from the Southern University of Science and Technology will lead a group of teenager elites from multiple universities to meet the representatives of enterprises face-to-face for talent matching. The event will serve as an excellent platform for companies to discover and nurture future stars in the plastics and rubber industries.

Please click Here for more event details.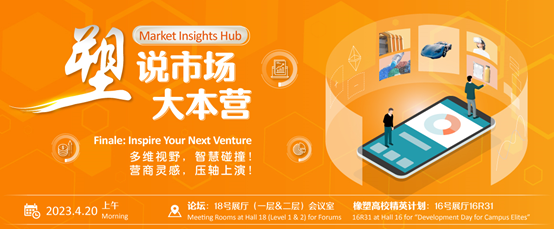 The World and China Reconnected!
China has reopened its borders to overseas travelers and welcomes travelers from around the world. Health codes nor quarantine are no longer required for all travelers to China. Starting from Feb 6, the personnel exchanges between the Mainland China and Hong Kong & Macau have also resumed. Starting from Mar 1, travelers from Thailand, Indonesia, New Zealand, Malaysia, Cambodia, South Africa, Sri Lanka, Hungary, and Laos who arrive at China directly, do not need to show negative PCR test certificates prior to flight departure. Relevant authorities stationed abroad have already resume examining and issuing various types of Chinese visas, including travel visa since March 15. At the same time, the visa-free entry into Guangdong province is also resumed for foreigners in groups from Hong Kong and Macau. Meanwhile, the EU, South Korea, US and Australia have also phased out PCR COVID tests for travelers from China. Negative pre-departure PCR test certificates are no longer required. All of these easing of controls would provide more convenience to overseas visitors for their trip to CHINAPLAS in Shenzhen, PR China.

CHINAPLAS 2023 is ready to receive crowds of international visitors in Shenzhen. It is a golden opportunity to visit the exhibition in person to reactivate the physical contacts with suppliers and partners, master updated trends, meet startups and rising stars, get ideas for business planning, and discover industry highlights. Click HERE to pre-register CHINAPLAS 2023 now! Exhibition Health Screening and Shenzhen Immigration & Health Requirements will be updated in due course, please refer to the show website for the latest information.

For more information or enquires about CHINAPLAS 2023, please visit www.ChinaplasOnline.com or contact Chinaplas.pr@adsale.com.hk



**END**


• Please click on the photo to download the high-resolution image.
• Grateful if we are provided a copy for reference if it is published.
• This press release is issued by Adsale Exhibition Services Ltd.

For media enquiries, please contact:
Hong Kong: Ms. Adele Fung / Ms. Cynthia Lau
Tel: (852) 2516 3316 / 2516 3583
Email:Chinaplas.pr@adsale.com.hk
Official Website: www.ChinaplasOnline.com

CHINAPLAS WeChat: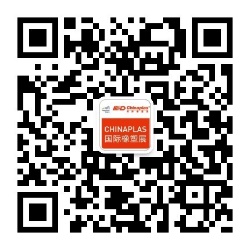 About CHINAPLAS 2023
CHINAPLAS 2023 is organized by Adsale Exhibition Services Ltd., Beijing Yazhan Exhibition Services Ltd., Adsale Exhibition Services (Shanghai) Ltd., Adsale Exhibition Services (Shenzhen) Ltd. and co-organized by China National Light Industry Council - China Plastics Processing Industry Association, China Plastics Machinery Industry Association, Guangdong Plastics Industry Association, Messe Düsseldorf China Ltd., Shenzhen Polymer Industry Association and the Plastic Trade Association of Shanghai. The event is also supported by various plastics and rubber associations in China and abroad.

First introduced in 1983, CHINAPLAS has been approved by UFI (The Global Association of the Exhibition Industry) since 2006. CHINAPLAS is exclusively sponsored by the Europe's Association for Plastics and Rubber Machinery Manufacturers (EUROMAP) in China for the 32nd time. CHINAPLAS is currently Asia's leading plastics and rubber trade fair.